The Story of Lou and Peter (so far) 
The following is a fairly matter-of-fact and fairly short biography.  Pop a No-Doz, and proceed at your own risk.  
It has been quite a ride so far.  We haven't won a grammy or been on the Tonight Show, but we've had a song on a grammy winning album, and have appeared on A Prairie Home Companion a number of times.  Our songs haven't been noticed by Willie Nelson or Madonna, but they have been recorded by Michael Cooney, Peggy Seeger, Noel Paul Stookey, Claudia Schmidt and Sally Rogers, Cathy Fink and Marcy Marxer, Faith Petric, Peter Bellamy, Bryan Bowers, and many more wonderful folkies.  And we sheepishly mention that recently we have had an entire tribute album of our songs recorded by the great Steve Gillette and Cindy Mangsen.  Here are some glimpses of our story: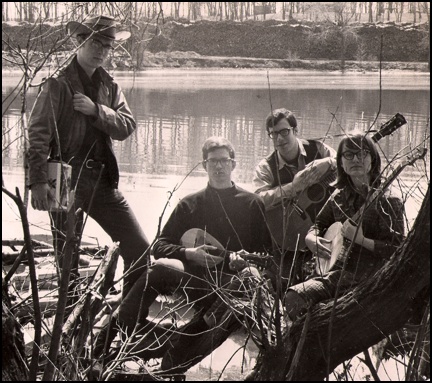 Lou was born in Appleton, Wisconsin, to a musical family.  She has loved to sing all her life, and credits music in the grade schools and in girl scouting with setting her on her path.  After a few years of piano lessons during grade school, she retired and spent the rest of her childhood on the basement  piano, playing and singing through her mother's collections of sheet music--Jerome Kern to George Gershwin to Gene Autry.  She played alto sax in the high school band, at the same time teaching herself guitar and banjo, to accompany the folk music she and her friends had become passionate about.  She formed a trio with two other girls in 1962, while a high school sophomore.  They played to a great round of applause in the sophomore talent show:  Peter, Paul and Mary's version of If I Had A Hammer, and the Limelighters' Gunslinger.
Peter was born in Philadelphia.  His family moved to Vermont when he was a year old, then to Massachusetts, then, when he was about four, to Homer, Louisiana, about fifty miles from Shreveport.  There, toward the end of fourth grade, Peter started playing trumpet in the school band.  In 1957 the family moved to Appleton.  He had a few piano lessons, a few drum lessons, a few trombone lessons, but wasn't fascinated by music until he got his hands on a baritone uke and discovered folk music in high school. 
Lou and Peter met in art class at Appleton Senior High.  By the time they were seniors, they had formed a quartet called the Town Council, which played a few non paying gigs for fun.  Peter started writing songs back then.  Lou got her hands on the Carl Sandburg Songbag.  Peter listened to Jimmy Driftwood, Bob Gibson, Pete Seeger, Burl Ives, and comedy music from Stan Freberg, Alan Sherman, and the like.  Lawrence University (then Lawrence College) brought in such folkies as Pete Seeger and Joan Baez.  They drove to an Oshkosh gymnasium to see Josh White Sr. play phenomenal music to an empty room. 
They graduated in 1965.  The summer after high school they played a few gigs as a duo, with Lou on the banjo and Peter on the 12-string guitar. That fall, at the local college extension, where they both went to school for a year, Peter in art and Lou in music, they formed another quartet which leaned toward jug band music.  At the time Lou also became fascinated with renaissance music, and procured a lute, while Peter also played in a blues duo.  By the fall of 1966 they were both in Madison, which was very soon in turmoil.  They were married in late 1967 and moved to London, Ontario, where Lou studied voice at the University of Western Ontario and played viola de gamba in a renaissance band, while building a harpsichord in her spare time.  They formed another quartet called the Trophy Band, and played every Wednesday night for beer.  This was a blues band, with Peter on the drums, Paul Beard on guitar-with-a-pickup, and Greg Paskerik on the ragtime blues piano.  Lou supplied the vocals.  In 1969 Lou and Peter moved to Vancouver on the train, hauling the harpsichord along with them.  There for three and a half years, the music was sporadic, though Peter began writing more songs, and they did form a more electric band, but eventually returned to an acoustic sound. 
They returned to Madison in 1973.  In the wild atmosphere of those days, Lou and Peter separated and eventually divorced.  They remained good friends and as their marriage dissolved, their musical partnership blossomed.  Lou picked up the accordion and Peter continued on the 12-string guitar, with Peter writing steadily.  By 1977 or so, they had quit their part time day jobs and had gone full time as a musical duo.   
In November of '77 they began playing once or twice every week at the Club de Wash in Madison, where they played regularly until 1986.  By 1988 they had recorded five LPs of original music, had been on A Prairie Home Companion, and were touring the country.  The touring was largely a result of the encouragement and enormous help of dear friend Michael Cooney, for whom they opened in a Madison show in 1982.  To this day, Michael is a treasured booster of their writing and performing. 
Peter has been with his current wife, Kristi Seifert, since the late 70s.  Lou has been married to Mark Hodgson since the mid 80s.  Mark and Kristi are enthusiastic supporters of the band, to put it mildly. 
The rest of our story is of a sort of low altitude trajectory through the folk music world of festivals, long drives, delayed flights, weird and wonderful gigs, more and more recordings, songbooks.  There have been crazy developments in technology, taking us through LPs to mp3s, from hand waxers and prestype posters to Photoshop and laser printers.  The songwriting has proceeded all the while, with Lou taking over the melody-writing duties in the early 1980s, and never looking back.  We have been on A Prairie Home Companion again, and have played regularly for decades at such dream venues as the Ark in Ann Arbor, the Freight and Salvage in Berkeley, the 8th Step in Albany, Passim in Cambridge MA.  Though we're never out for more than a week, we have toured from Victoria BC to Sangerville, ME; from Los Angeles CA to Mountain View, Arkansas.  We have played festivals from San Diego CA to Canso Nova Scotia.  We've been all over the place.    
We even had a theatrical presentation of our stuff.  The Madison Repertory Theater created a lightly plotted musical of our songs in 2004, called Love is the Weirdest of All, which played to good reviews for a month in Madison.    
We tried writing a musical, called More Later, which was workshopped at the Cornelia Street Cafe in New York City a couple years ago.  So far it's in limbo, but it was extreme fun, as far as it went.  
We've been commissioned to write songs and record them for the Wisconsin Historical Society, Wisconsin Public Television, the UW Foundation, and other non-commercial entities.  Both of us having had experience in the visual arts, we were hired to design and paint a folk music mural on the side of a great long dressing room trailer for the Old Songs Festival of Altamont, New York.  We have recorded thirteen CDs of original music, and five LPs before that.  For the last dozen CDs, we have been our own engineers, and have recorded them in our own, uh, studio.  We've designed four songbooks of our songs, all notated and illustrated by us.  
Though we like to think of ourselves as a very do-it-yourself outfit, there is no way to adequately thank all the folks who have helped us over the years.  Our audiences, our presenters, the singers of our songs, all the marvelous media folks, especially in radio, who have spread our weird music around the world... Not to mention our doctors, dentists, mechanics, engineers, web gurus, shrinks, roofers, grocers, families, friends, and, as mentioned, more than anyone else, our loving and tolerant spouses, Kristi and Mark.